The most popular food item found at a party is dip. Almost every birthday, cookout, and holiday celebration has a dip for you to dunk your chips in.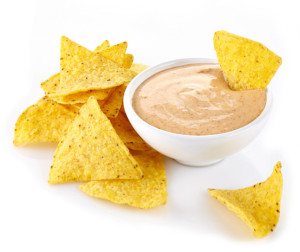 One of the most addicting dip is queso dip. Queso translates to "cheese" in English, of course. Queso dip is a smooth, creamy concoction made of melted cheese, chile peppers, and other ingredients for a bold kick in your mouth. It's a versatile dip that goes well with chips or as a condiment on your favorite Mexican dishes such as tacos, quesadillas, burritos, and enchiladas.
Most people have the yellow-orange cheese in mind when they hear the word "queso," but traditional Mexican queso is white. This homemade white queso dip recipe from Bare Feet in the Kitchen puts the store-bought versions to shame.
Yield: 2 cups

1/2 lb White American Cheese, roughly chopped into 1″ pieces

2 tablespoons chopped green chiles, frozen or canned will work fine

1 tablespoon pickled jalapeno slices, diced fine

1 tablespoon juice from the pickled jalapenos

1/3 cup milk

1/4 cup water

dash of cumin

Combine all ingredients in a medium size glass bowl. Microwave for five minutes, pausing to stir after every minute. The dip will be very watery at first, but it will thicken as it finishes cooking. Serve hot, poured over just about anything that you want to make more delicious. Enjoy!
If you're looking for a little extra heat in your queso, then double the peppers in your next batch. You could also experiment with different flavors by adding chorizo or chili to make your own specialty queso. It is a quick and simple recipe that you can whip up and bring to your next party for all your friends and family to enjoy.
Mexicali Fresh Mex Grill offers an authentic, rich Mexican queso dip along with other appetizers on the menu. If you're in the mood to enjoy authentic Mexican food outside of your home tonight, stop by one of our locations in Massachusetts or Connecticut. We can't wait to see you!