According to Ranker.com, Japanese and Mexican food are within the top five of America's favorite types of cuisine.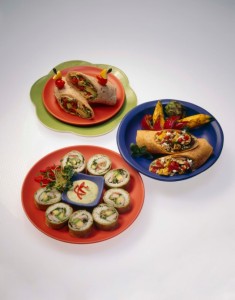 What better way to celebrate these new American traditions than by combining the two? Mexican sushi is a fun and creative way to try out both of these cuisines at once. Here are three easy recipes to incorporate traditional Mexican ingredients with a typical Japanese meal.
15 Bean Mexican Sushi
Healthy Kids Today Magazine has a family-fun and kid friendly recipe that will be sure to please everyone in your household. The ingredients include 3 cups of 15 bean soup mix, 8 cups of water, ¼ cup chopped red onion, 1 teaspoon of salt, 4 medium flour tortillas, 1 tablespoon guacamole, and ¼ cup Mexican blend cheese.
Place beans, water, onions and salt in slow cooker and cook on high for about 4-6 hours.

When the beans have cooked, drain while reserving the liquid. Pour beans into a big bowl, and mix with a hand mixer, or a masher. Add as much of the reserved water (and a little extra salt) as needed to attain desired consistency.

For extra flavor add jalapenos, some pepper, or even cayenne if you like your beans more spicy.

To make the sushi: Warm tortilla to be flexible. Spread with bean cream and guacamole. Roll up and wrap with a plastic wrap and chill.

A few hours later, take out and slice like sushi. Add chopped tomatoes and cheese to the top.
The Amazing Avocado Sushi
The avocado is a Mexican staple ingredient that goes into guacamole, but it is also a common ingredient in many sushi rolls. It only makes sense that it would be incorporated into a fusion roll. The Avocados from Mexico recipe includes a lot of the green fruit. Ingredients include 3 ounces low-fat cream cheese, softened, 1 1/2 tablespoons seeded and finely chopped chipotle in adobo, 3 large flour tortillas or wraps (1 each of plain, tomato and spinach flavor), 3/4 cup low-fat refried black beans, 6 tablespoons pico de gallo salsa, 1 1/2 avocados from Mexico, peeled, pitted and diced, and 3/4 cup cilantro leaves.
Mix together cream cheese and chipotle. Heat tortillas in microwave or oven to soften. Spread each tortilla with 2 Tbsp. chipotle cream cheese, 1/4 cup black beans and 2 Tbsp. salsa. Scatter one-third of the avocado and cilantro on each. Roll up tortillas tightly; wrap in plastic wrap and refrigerate. To serve, unwrap and trim ends; cut each roll across into 6 pieces.
The Mexican Roll
SewTrashy describes a Japanese and Mexican fusion roll they got in El Paso, Texas. Using these ingredients and the methods mentioned in the other two recipes, we think that this would be a delicious, spicy roll to try. Ingredients include:
Manchego cheese, avocado, surimi, seasoned jalapenos and tampico paste. Covered with chicken breast. SMOTHERED in Sriracha Sauce!
While these unique fusion recipes seem simple and mouth wateringly tasty, you may be in the mood for more traditional Mexican food. That's where Mexicali Fresh Mex Grill comes into play. Our locations in Massachusetts and Connecticut never fail to use the freshest ingredients to make everything from traditional dishes to unique plates. Join us in Spencer, Holden and Ware, MA, or our recently opened Dayville, CT location. We look forward to seeing you!
What is your favorite fusion of cuisines?