The beginning of the enchilada dates far back to Mayan times. This tasty snack originated in Mexico, where the Aztecs would wrap tortillas around small fish or other small portions of meat. This ancient dishes' name translates to "chili," which comes from their original form sold as Mexican street food. Originally, they were corn tortillas dipped in chili sauce with no fillings. Now, enchiladas can take on many forms, being filled with a variety of meats, cheeses, vegetables, beans, and sauces.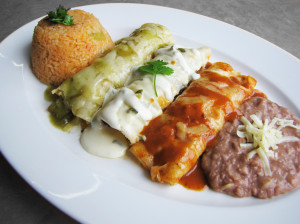 You may have seen enchiladas in the frozen food section of your grocery store, but they don't come close to competing with the deliciousness of homemade enchiladas. They may take a little time, but they're relatively simple to make. You can mix and match fresh ingredients to tailor the enchiladas to your individual taste.
If you don't know where to start, Better Homes and Gardens offers a great, yet simple recipe for the popular chicken enchilada.
Chicken Enchiladas

Makes: 6 servings

Prep: 30 mins

Bake: 40 mins 350°F

Ingredients

1/4cup slivered almonds

1/4 cup chopped onion

2    tablespoons butter or margarine

1   4 ounce can diced green chile peppers, drained

1   3 ounce package cream cheese, softened

1   tablespoon milk

1/4 teaspoon ground cumin

2    cups chopped cooked chicken or turkey

12  7 inches flour tortillas or 6-inch corn tortillas

1    10 3/4 ounce can reduced-fat condensed cream of chicken or cream of mushroom soup

1    8 ounce carton light dairy sour cream

1   cup milk

3/4 cup shredded Monterey Jack or cheddar cheese (3 ounces)

2    tablespoons slivered almonds

Directions

1. In a medium skillet cook the 1/4 cup almonds and the onion in hot butter over medium heat until onion is tender and nuts are lightly toasted. Remove from heat. Stir in 1 tablespoon of the canned green chile peppers; reserve remaining peppers for sauce.

2.In a medium bowl stir together cream cheese, the 1 tablespoon milk, and the cumin; add nut mixture and chicken. Stir until combined. Spoon about 3 tablespoons of the chicken mixture onto each tortilla near an edge; roll up. Place filled tortillas, seam side down, in a greased 3-quart rectangular baking dish. Set aside.

3. For sauce, in a medium bowl combine the reserved chile peppers, the soup, sour cream, and the 1 cup milk. Pour evenly over the tortillas in the baking dish. Cover with foil. Bake, uncovered, in a 350 degree oven about 35 minutes or until heated through. Remove foil. Sprinkle enchiladas with cheese and the 2 tablespoons almonds. Return to oven; bake about 5 minutes more or until cheese melts. Makes 6 servings.
Now you're ready to learn how to make enchiladas right at home. If you're not in the mood for chicken, feel free to swap it out with ground beef, pulled pork, tofu, or beans. The more comfortable you get with the recipe, the more you can experiment with the ingredients to really make the enchiladas your own specialty. The next time you're entertaining, try this recipe for your friends and family and they'll be sure to enjoy them.
If you're not quite ready to make enchiladas at home, but your mouth is watering after reading the recipe, come visit us at Mexicali Fresh Mex Grill. We serve enchiladas, as well as other authentic Mexican dishes, at any of our locations in Massachusetts and Connecticut. We hope to see you soon!