The summer months bring many things to celebrate. Graduations, birthdays, and national holidays are just a few events that call for a fiesta. The warm weather allows for these celebrations to be hosted outside at a backyard barbecue. Nothing brings friends and family together like grilling up some food to enjoy, but before you even turn on the grill, there are other treats to be had. 
People will need something to snack on before the meat is ready, so appetizers are important to have at any party. At your next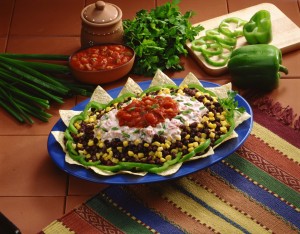 barbecue, upgrade from the usual chips and dip appetizer and make a Mexican layered dip. They're quick and easy to make, and their multiple layers make dish more delectable than traditional salsa.
Layered Lima Bean Dip
This recipe from Myrecipes.com features a lima bean mash that goes great with the rest of its ingredients. Once the yogurt is strained and chilled, layer on the ingredients and serve. Bake some toasted bread slices for dipping, and everyone can enjoy.
Ingredients

2 cups plain low-fat yogurt

1/2 (10-oz.) whole-wheat French bread baguette

Olive oil cooking spray

1/2 teaspoon freshly ground pepper

1 small cucumber, seeded and diced

1/4 teaspoon salt

Lima Bean Mash

1/4 cup (1 oz.) freshly grated 1.5% reduced-fat sharp Cheddar cheese

1 medium tomato, seeded and diced (about 1/2 cup)

3 cooked bacon slices, crumbled

Assorted vegetable slices

Preparation 

1. Preheat oven to 350°. Line afine wire-mesh strainer with 1 coffee filter. Place strainer over a bowl; spoon yogurt into strainer. Cover yogurt with plastic wrap, and chill 2 hours.

2. Meanwhile, cut baguette into 1/4-inch slices, and place on a baking sheet. Lightly coat 1 side of bread with cooking spray, and sprinkle with pepper.

3. Bake at 350° for 8 to 10 minutes or until toasted.

4. Spoon yogurt into a bowl, discarding strained liquid. (Yogurt will be thick.) Stir in cucumber and salt.

5. Spread Lima Bean Mash on bottom of a 9-inch deep-dish pie plate. Spread yogurt mixture over Lima Bean Mash. Top with cheese, tomato, and bacon. Serve with toasted bread slices and assorted vegetable slices.
Layered Pico de Gallo Dip
Kraft has a pico de gallo dip that only takes 20 minutes to prepare and bake. This is a tasty change from traditional salsa that can be served at your barbecue.
What You Need

1 pkg.   (8 oz.) PHILADELPHIA Cream Cheese, softened

1cup  KRAFT Mexican Style Finely Shredded Four Cheese

1-1/2 cups  pico de gallo, drained

2 radishes, sliced

1 small  avocado, chopped

Thin wheat snack crackers

Make It

HEAT oven to 350ºF.

SPREAD cream cheese onto bottom of 9-inch pie plate; top with shredded cheese.

BAKE 10 min. or until dip is heated through and shredded cheese is melted.

TOP with all remaining ingredients except crackers. Serve with thin wheat snack crackers.
5-Layer Mexican Dip
Another great layered dip recipe from Kraft is the 5-layer Mexican dip. Its many different layers give this dip a bold kick. Serve with tortilla chips to taste all the different flavors that the ingredients have to offer.
What You Need

1 can (15-1/2 oz.) refried black beans

1 Tbsp. chili powder

1/2 tsp. ground cumin

1 cup BREAKSTONE'S or KNUDSEN Sour Cream

1 cup KRAFT Shredded Cheddar Cheese

3 green onions, sliced

1/3 cup sliced black olives

1 tomato, chopped

Make It

MIX beans, chili powder and cumin; spread onto bottom of 9-inch pie plate.

TOP with layers of remaining ingredients.

REFRIGERATE several hours.
Seven Layer Taco Dip
If you're a fan of tacos, this layered dip is the one for you. This recipe from Allrecipes.com creates a delicious seven layer taco dip that can be prepared in just 30 minutes.
Ingredients
1 (1 ounce) package taco seasoning mix
1 (16 ounce) can refried beans
1 (8 ounce) package cream cheese, softened
1 (16 ounce) container sour cream
1 (16 ounce) jar salsa
1 large tomato, chopped
1 green bell pepper, chopped
1 bunch chopped green onions
1 small head iceberg lettuce, shredded
1 (6 ounce) can sliced black olives, drained
2 cups shredded Cheddar cheese

Directions

1. In a medium bowl, blend the taco seasoning mix and refried beans. Spread the mixture onto a large serving platter.

2. Mix the sour cream and cream cheese in a medium bowl. Spread over the refried beans.

3. Top the layers with salsa. Place a layer of tomato, green bell pepper, green onions and lettuce over the salsa, and top with Cheddar cheese. Garnish with black olives.
Whether you're hosting or attending a barbecue, having one of these Mexican layered dips will make you a hit with your friends and family. These recipes offer a twist to the traditional appetizers served at a barbecue, and their powerful flavors will delight everyone's taste buds.
If you don't have an occasion to cook these for, or if you're in the mood for a delicious Mexican appetizer, come visit us Mexicali Fresh Mex Grill. We offer many authentic Mexican dishes for you to enjoy at any of our locations in Holden, Spencer, and Ware MA, or our Dayville, CT location. We look forward to seeing you soon!