Searching for authentic Mexican taste in your meals? Salivate in the taste of mole sauce during your next meal.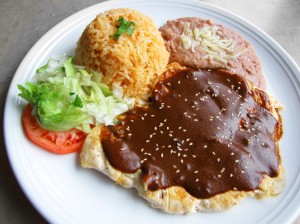 Mole sauce is a Mexican sauce, used on a variety of meals, meat dishes particularly. While mole sauce is not as well-known as salsa, it is a very popular sauce to accompany Mexican cuisine. The popularity of mole sauce is found in the central and southern parts of the country. Mole sauce is popular for major celebrations in Mexico; almost 99% of Mexicans have tried mole sauce at one time in their life.
The trick to making mole sauce is balancing the sweetness and spiciness. The culmination of peppers, seeds, nuts, berries, and other ingredients bring a unique flavor to mole sauce that greatly compliments meats. The article below from marksdailyapple.com contains a recipe for mole sauce and tips to make it, the right way.
Mexican Mole Sauce

This particular recipe is a cross between red and black mole (pronounced MOLE-lay); the flavor and color influenced by a blend of dried chills, nuts, seeds, dried fruit and chocolate. This is the type of mole people outside of Mexico tend to be most familiar with and unfortunately, many versions are overly sweet and heavy, especially store-bought versions. When made well, the sweetness in mole is balanced by the spicy, smoky flavor of chills, and the toasted and slightly bitter flavor of roasted nuts and seeds.

There's no denying that mole is a labor-intensive sauce, but we've done our best to make this version as straightforward as possible. Although it takes effort to gather and prepare the ingredients, the sense of accomplishment you'll feel when it all comes together into an amazing Primal meal is worth it. Also, a little bit of mole goes a long way, so it's likely you can make a batch and freeze half for another meal.

Mole is usually served with chicken or turkey, which can be cooked any way you please then topped with mole, or simmered in the sauce as it cooks.

Ingredients:

Makes about 2 cups of sauce

6 dried ancho chills
2 dried pasilla chills
2 dried mulato chills
1/2 cup oil or lard
2 garlic cloves, peeled
2 tablespoons pumpkin seeds
1/4 cup sesame seeds
1/3 cup whole blanched almonds
3 tablespoons raisins or dried, unsweetened blueberries
3 whole cloves
1/4 teaspoon black pepper
1/4 teaspoon cinnamon (use Mexican cinnamon if you can find it)
3 tomatillos, husked and roughly chopped
3 cups chicken broth
1/3 cup finely chopped dark chocolate (look for brands with 70-80% cocoa)

Instructions:

Pull the stems out of the chills and open the chills (a scissor works well for this) so you can pour or scrape out the seeds. Reserve one tablespoon of seeds and set aside. The seeds will make the sauce spicier; if you prefer a less-spicy sauce, then simply discard all the seeds. If you prefer a really spicy sauce, set aside two tablespoons of seeds instead of one.

Heat 1/4 cup of oil or lard in a heavy skillet over medium heat. Quickly fry the chills for 30-40 seconds, until they unfurl a little and become slightly darker. Turn once or twice while frying so the chills don't burn.

Set the chills on a paper towel so some oil drains off then put the chills in a bowl, cover with hot water (about 6 cups) and set aside for 30 minutes.

While the chills are soaking, add the reserved tablespoon of chile seeds and the garlic cloves to the heated skillet. Fry until noticeably browned, 3-5 minutes. Set aside in a bowl.

Add the pumpkin seeds to the skillet and cook until they pop and begin to brown, about 1 minute. Combine with the chile seeds and garlic.

Add the sesame seeds to the skillet and cook until golden, 2-3 minutes. Combine with the seeds and garlic.

Add the almonds to the skillet, cooking until golden, about 3 minutes. Combine with the seeds and garlic.

Add the raisins or dried blueberries to the skillet until they puff up, about 1 minute. Combine with the seeds, garlic and almonds and set the bowl aside.

Now remove the chills from the soaking water, reserving 3/4 cup of the water. Put the chills in the blender with the 3/4 cup of soaking water. Blend into a smooth puree. You'll probably have to stop the blender and scrape down the sides several times.

Heat the remaining 1/4 cup of oil or lard in a deep pot over medium heat. Add the chile puree and simmer for fifteen minutes, stirring frequently so it doesn't stick to the bottom of the pot. Turn the heat down to medium-low if the paste begins to burn.

While the chile puree is simmering, pour the bowl of seeds, garlic and almonds into the blender. Add the cloves, black pepper, cinnamon and tomatillo plus 1 cup of chicken broth. Puree until smooth, stopping the blender as needed to scrape down the sides.

After the chile puree has simmered for 15 minutes, add the puree of seeds, nuts and tomatillos and simmer another 15 minutes, stirring frequently.

Add the chocolate and remaining broth and simmer at least 20-25 minutes. Finish by adding salt to taste.
Mmm… Blueberries, cinnamon, peppers, tomatillos, garlic, pumpkin seeds, dark chocolate, and raisins; the culmination of these bursting flavors in mole sauce make it very pleasing to the palette. Although these ingredients may appeal as a strange combination, it's what makes mole sauce so tasteful. Sweet versus spicy flavors create a mouth-watering sauce. The ingredients of mole sauce bring an authentic Mexican twist to any dish because it brings out other flavors. Mole sauce is preferred to accompany meat like chicken or turkey. There are different methods to preparing mole sauce. However, mole sauce always starts with one of more types of chili peppers. The trick from there is balancing the sweet and spicy flavors integrated into mole sauce.
Whether or not you have had mole sauce before, its flavor is desirable for any cuisine. Luckily, if you do not want to prepare it, we offer a few dishes with mole sauce such as Pollo Parilla. Our chefs at Mexicali's or Playa Del Carmen would be more than happy to prepare a mole sauce dish for you.