December is a time for families and friends to rejoice and celebrate the spirit of the holidays.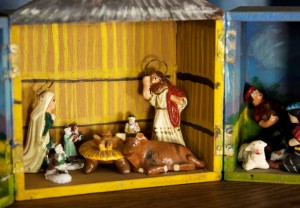 Across the globe countries celebrate the holiday in their own way. Did you know that a Christmas in Mexico is more than just one day?
Christmas in Mexico is a festive time, honoring religion. To show the importance of Christmas in Mexico, it's celebrated over a month's span. Christmas is still celebrated on the 25th; however, December 12th and January 6th are also important days for traditions of Christmas in Mexico. Traditions followed during a Christmas in Mexico include breaking a piñata, setting up a nativity scene, and baking a plastic baby in a cake to honor baby Jesus. The following article from The Holiday Spot explains how to traditionally celebrate Christmas in Mexico.
Christmas in Mexico

Christmas in Mexico is celebrated annually on the 25th of December, as in many other parts of the world.

Mexican Christmas traditions are not influenced by the American way. Rather they are homegrown and based mainly on Mexico's form of Roman Catholicism. Popular cultural traditions in Mexico, called "posadas", have also given rise to several traditions observed here during Christmas.

Mexican Christmas celebrations begin on December 12, with the birthday of "La Guadalupana" (Virgin of Guadalupe), and end on January 6, with the Epiphany. Children usually do not attend school on January 6. They wake up early in the morning to find gifts or toys kept in their room and figures of the Three Magic Kings at "El Nacimiento". Like Santa Claus in the US and other western nations, the

Three Wise Men are the ones believed to bring gifts not only to baby Jesus but also to millions of Mexican children who have placed written requests in their shoes. Also unlike in the US where children get presents on 25th December, most Mexican kids receive their gifts at Epiphany (January 6th).

The construction of the "Nacimiento" or "El Nacimiento"(Nativity scene) is a popular custom here, as in many other countries. During the festive season, almost every family creates a Nativity scene in their home. At midnight on Christmas, a figure of baby Jesus is placed in the nacimientos to commemorate the birth of the Lord. This is a symbolic representation of Christmas in Mexico as a whole.

On Christmas Eve another verse is added to the Ave Marias, telling the Virgin Mary that the desired night has come. Small children dressed as shepherds stand on either side of the nativity scene while members of the company kneel and sing a litany, after which the Christ Child is lulled to sleep with the cradle song, "El Rorro" (Babe in Arms).

At midnight on Christmas Eve, dazzling fireworks, ringing bells and blowing whistles announce the birth of Christ. The bell-sounds beckon families to the Midnight Mass. Thousands flock to the churches to attend the well-known "Misa de Gallo" or "Mass of the Rooster." It is called the "Mass of the Rooster" because it is said that the only time that a rooster crowed at midnight was on the day that Jesus was born. The Mass over, families return home for a sumptuous Christmas dinner of traditional Mexican foods. Though the dishes vary from region to region, common foods are "tamales," rice, rellenos, "atole" (a sweet traditional drink) and "menudo".
Another traditional part of Christmas in Mexico is Las Posadas. For nine days before Christmas, beginning on December 16th, children reenact the holy family's search for an inn. The procession of children is led by children dressed as Mary & Joseph leading children posing as angels and shepherds. This particular tradition of Christmas in Mexico is heartwarming and festive at the same time. They go from house to house (symbolizing inns), getting turned away at each until one opens the door. A pre-arranged fiesta then takes place – a true Christmas in Mexico!
Christmas in Mexico is unique from what we are used to in the United States. Lighting fireworks, breaking piñatas, and writing to the Wise Men by leaving "requests" in your shoes are just some of the interesting traditions a Christmas in Mexico celebrates. Christmas is important in Mexico because of the Mexican people's closeness to religion — a way of life for most in Mexico. Christmas in Mexico demonstrates its importance with extravagant traditions.
In Massachusetts, to enjoy the sounds and foods of Christmas in Mexico, one need not look very far! Mexicali Grill in Spencer and its sister Mexican restaurant, Playa del Carmen in Holden, are all decked out for the season. Though closed on Christmas day, you can enjoy the atmosphere of a Christmas in Mexico all month long! ¡Bienvenidos and Feliz Navidad!