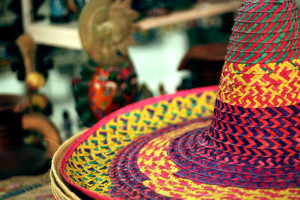 Yes, the hamburger is an American dish. No one would ever want to take the heart of American Cuisine away from the land of the free and the home of the brave. So while the burger's roots will always remain in the USA, the dish has migrated globally. All cultures are adding their spin on the hamburger, including those south of our border.
Mexico has taken the hamburger and done some wonderful things with it. The Mexican burger is an incredible delight; it takes everything great about the traditional hamburger and adds some of that fantastic Spanish kick. There are many different types of Mexican burgers; here at Mexicali we offer both a BBQ Baja Burger and a Fajita Burger.
Want to try making a Spanish burger yourself? Check out this recipe for Bobby Flay's Spanish Burger with Pickled Shallots, courtesy of the Food Network!
Spanish Burger with Pickled Shallots
Ingredients
Spiced Butter

1 stick (8 tablespoons) unsalted butter
1 tablespoon harissa
2 cloves garlic, smashed

Pickled Saffron Shallots

3/4 cup sherry vinegar
1 tablespoon sugar
1 teaspoon kosher salt
Pinch of saffron
2 large shallots, thinly sliced

Aioli

1/4 cup mayonnaise
1 teaspoon harissa
1/4 teaspoon smoked paprika
2 piquillo peppers, patted dry, or 1 roasted red pepper
1 anchovy
Juice of 1/2 lemon
Kosher salt and freshly ground black pepper

Crispy Prosciutto

1/2 cup canola oil
4 thin slices prosciutto di Parma

Burgers

1 1/4 pounds beef chuck, cut into 2-inch pieces (or use 1 1/2 pounds ground 80/20 beef chuck and omit the pork fat below)

4 ounces pork fat (omit if using the ground chuck) Kosher salt and freshly ground black pepper

1 tablespoon canola oil

4 slices fontina cheese

4 soft sesame seed buns, lightly toasted Arugula, for topping
Directions
For the spiced butter
Melt the butter over low heat in a small saucepan.
Add the harissa and garlic and cook for 1 minute.
Remove from the heat, cover and let sit 1 hour to allow the flavors to meld.
For the pickled saffron shallots
Bring the vinegar, sugar, salt and saffron to a boil in a small saucepan set over medium heat; remove from the heat and let cool for 10 minutes.
Put the shallots in a small bowl, pour the vinegar mixture over, cover and refrigerate for at least 30 minutes and up to 24 hours.
For the aioli
Combine the mayonnaise, harissa, smoked paprika, piquillo peppers, anchovy and lemon juice in a blender and blend until smooth; season with salt and pepper.
Cover and refrigerate for at least 30 minutes to allow the flavors to meld.
For the crispy prosciutto
Heat the oil in a small saute pan over medium heat until it shimmers.
Add one slice of the prosciutto at a time to the pan and cook until just crisp.
Drain on a plate lined with paper towels.
For the burgers
Combine the chuck and fat in a meat grinder and grind coarsely into a large bowl (or put the 80/20 beef into a large bowl).
Mix in some salt and pepper.
Divide the meat into 4 equal patties. Heat a cast-iron pan over high heat until smoking.
Add the canola oil and burgers and cook until the bottoms are golden brown and a crust has formed, about 4 minutes.
Flip over and begin brushing and basting with the spiced butter.
Cook until the bottoms are golden brown and the meat is cooked to medium, another 4 minutes.
Top the burgers with the fontina, add a little water to the pan, cover quickly and cook until the cheese is completely melted, about 1 minute.
Spread some aioli on the top and bottom buns. Place a burger on each bottom bun, top with some of the pickled shallots, followed by a slice of crispy prosciutto and some arugula. Add the top buns and serve.
And that's how you make delicious Mexican Burgers! If you want to learn how to make more delicious Mexican dishes, check out our blog. If reading this just made you hungry but you do not want the work in preparing food for yourself, stop into Mexicali. We have locations across Massachusetts and always satisfy our customers.