In the mood for something scrumptious? It is often hard to resist a traditional Mexican dessert! Whether it is fried, sugary, or both, Mexican desserts are the sweetest!
Mexican desserts come in all shapes, sizes, and flavors. Most importantly, they can be enjoyed as a little something sweet for the individual who is eating them. Fried desserts such as the sopaipilla listed below are commonly referred to as "street food" because they were not often made in traditional Mexican homes. Flan, on the other hand, can take hours to make in the home and often has many local varieties.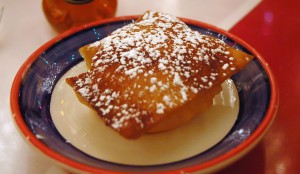 Flan: A custard dessert with a soft layer of caramel on top, this dish can vary drastically by region. A Mexican variation called Flan Napolitano has cream cheese added to the recipe, which creates a creamier dessert.
Sopaipilla: This fried pastry is traditionally made from wheat dough, which is cut into circular, square, or triangular shapes. Frying the dough causes it to puff up, making it look like a little pillow.
Tres Leches Cake: This sponge or butter cake is soaked in heavy cream, condensed milk, and evaporated milk. First seen in Mexico in the 19th century, tres leches cake's origins are likely found in both Europe and the Americas.
Ready to make something yourself? Try this delicious recipe for homemade flan by Food.com!
INGREDIENTS

Nutrition

1⁄2cup sugar
6eggs
3cups milk
1⁄2cup sugar
1 1⁄2teaspoons vanilla
1teaspoon orange rind, grated
sliced fruit (Strawberries, Kiwi or other fruit)

DIRECTIONS

Heat 1/2 cup sugar in a heavy skillet or saucepan, stirring constantly until it melts and turns a dark golden color.
Remove from heat and immediately pour into a 4 1/2 cup metal ring mold, swish it around so it evenly coats the bottom of the ring mold.
In a large mixing bowl, lightly beat the eggs.
Stir in milk,1/2 cup sugar, vanilla and orange peel.
Place caramel coated ring mold in another pan and place on an oven rack.
Pour egg mixture into the ring mold and pour the hottest tap water possible around the ring mold to a depth of 1 inch.
Bake at 325Ffor close to l hour or until a knife comes out clean.
Cool flan on a wire rack, Chill for at least 3 1/2 hours.
To unmold the flan loosen edges with a spatula, slip spatula down the sides to let air in.
Place the serving platter over the mold and flip to allow the flan to slip onto the platter.
Spoon the caramel that may remain in the mold on top of the flan.
Pile sliced fruit in the center and serve.
Whether you like your dessert after a meal or just as a snack, Mexican desserts are the way to go! For more mouthwatering Mexican dessert creations, check out our menu or visit any of the Mexicali Fresh Mex Grill locations.