If you're looking for a themed gift idea for someone who loves Mexican culture, here are a list of ideas.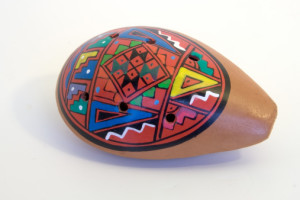 Hand-painted Pottery. If you're visiting Mexico, look for authentic handmade pottery painted with colorful ornate designs. This is a great gift for someone who already knows and loves Mexican culture because you can find a huge variety of decorative pieces depicting cultural symbols like skeleton figurines for Day of the Dead and crosses painted with religious scenes. If you're looking for something practical, you can choose from dishware, vases and jars. For a mix of practical and decorative, look for an ocarina, which is a small hand-held clay flute. Mexican ocarinas were part of the ensemble of folk instruments from Mesoamerican cultures and are sometimes shaped into birds, turtles, or totems.
Tamale Making Kits. For someone who likes cooking and hands-on learning, look for a starter kit that will contain everything needed to make your own tamales. Kits can come with recipes, instructions, utensils, and ingredients for tamales and delicious atole sauce to accompany them. In no time they can make their own natural and delicious Tamales in the true Mexican tradition.
Hot Sauce Samplers. If you know someone with a passion for spicy flavors, help them explore Mexican tastes through a variety set of hot sauces. Make sure you cover all your bases from the extra hot habanero to the tangy-spicy green jalapeño, the smoky chipotle, to the smooth, traditional red sauces.
Drink Making Kits. You can make your own non-alcoholic Mexican drinks called aguas frescas, which means "cool waters." The flavors from aguas frescas come from sweet fruits, sour fruits, flowers or seeds. Familiar flavors include Piña, Sandía, Melón, Guayaba, Mango, and Naranja. More exotic flavors include the Tamarindo juice from the Tamarind tree (common in Mexico and South America) and the Habiscus flower. Another popular drink, Horchata, is made of rice, vanilla and cinnamon. Add a bowl and ladle and it will be easy to serve at the next party.
Serape. Traditionally the serape is a long blanket-like shawl worn by men in Mexico, similar to the poncho. They've been around since the Aztecs, but they became wildly popular in the 1920s when many started celebrating Mexican arts. Along with the sombrero, the serape became an international symbol for Mexico. Today they're hand woven to create a variety of blankets, rugs, ponchos and jackets in brilliant color schemes.
Religious Candles. Candles make an easy affordable gift that anyone can appreciate.
Mexican Candy Basket. Creating a basket of Mexican candy is a great idea for a children's party or someone with a sweet tooth. Depending on how authentic you want to make it, consider adding a candy that's meant to be dipped in chili powder. If the person is crafty, include molds to make sugar skulls, which they can decorate themselves with colorful icing. For extra fun, throw in a pinata.
Try a taste of Mexico today when you stop by one of our five Mexicali Fresh Mex Grill locations in Spencer, Holden, and Ware MA, or Dayville, and Stonington CT. We look forward to seeing you!