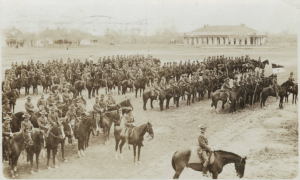 Every year on the third Monday of November, Revolution Day (or Dia de la Revolución) is celebrated in Mexico, marking the start of what became the Mexican Revolution.
About the Mexican Revolution
Until 2005, the holiday was celebrated every year on November 20th. However, recent legislation changed the celebration to occur on the third Monday of November each year, regardless of date. The celebration marks a historic armed struggle that lasted from 1910-1920. The revolution radically transformed Mexican politics and society, having begun with dissatisfaction with the 35-year long regime of Porfirio Diaz, who failed to find a solution to the presidential succession. One of the great heroes of the Mexican Revolution was Pancho Villa. Living in North-Central Mexico until the age of 16, he committed a series of horrendous crimes and changed his name from Francisco to "Pancho" in order to evade the law. During the time of the revolution, many regarded Villa as a Robin Hood type of outlaw, stealing from the rich and sharing his riches with the poor.
The Celebration
On the Dia de la Revolución, citizens of Mexico celebrate the historic holiday with large, outdoor events such as parades, bazaars, and festivals. Many people dress up as revolutionaries to participate in all of the festivities. Families and friends come together to talk and sing about the revolutionary heroes who banded together to reform Mexico. The celebration, like many others, includes a variety of festive foods such as tacos, tostadas, enchiladas, and fajitas. The historic time in history is remembered and celebrated very similarly to the way in which many Americans celebrate Independence Day. In fact, it is not uncommon to hear people shout "Viva la Revolución!" and "Viva Mexico!"
Mexican Flag Cookies
Celebrate Revolution Day at home! Use the following recipe from MexGrocer to make your own Mexican Flag cookies. The cookies are made with minimal ingredients, but note that you will need to leave enough time to let the dough chill for about 2 hours before baking.
Ingredients:
2 pkg. active dry yeast
1/4 cup warm water
2 cups butter (4 sticks), softened
1 cup sugar
1 egg
4 1/2 cups sifted flour
Red and green colored sugar
Directions:
Preheat oven to 350 degrees. Dissolve yeast in warm water. Cream butter and sugar together, beating until light and fluffy. Add in a lightly beaten egg. Blend in dissolved yeast, then gradually stir in flour. Chill dough for about 2 hours. Shape into 3/4″ balls. Dip one side in red sugar, the other in green sugar, leaving a clear stripe down the center. Place on buttered cookie sheets. Bake for 10 to 12 minutes, or until lightly browned. Remove from immediately to wire racks to cool.
If you are interested in learning more about Mexican culture and celebrations, be sure to read our blog. Or, if you are interested in trying out some delicious Mexican cuisine, similar to what would be eaten on the Dia de la Revolución, be sure to come by one of our many Mexicali Fresh Mex Grill locations throughout Massachusetts and Connecticut!