One great way to kick up any meal is to top it with roasted green chiles.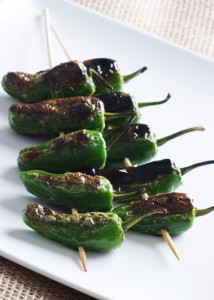 Depending on the type of chile you choose, it can add a kick of heat, or simply just a smoky flavor. Roasting green chiles is easy to do, and is a simple way to enhance the flavor of any dish, or create a tasty appetizer.
First, you must choose what type of pepper you'd like to use. Typically, milder peppers are used for roasting. Poblano peppers are great if you are looking for a mild green chile, while jalapenos will have a big kick, even when roasted, if that's what you are looking for.
Roasting chiles can be done either in the oven or on the grill. The grill is definitely the optimum choice, since it will give an extra barbeque flavor infusion. The best way to make roasted chiles is to cook them over a charcoal grill with wood chips to add that smoky flavor.
For the Oven:
Place the peppers on a baking sheet lined with foil. Preheat your broiler, then place the chiles on the top oven rack.
For the Grill:
Lightly toss the peppers in olive oil. (If there is too much oil, it will drip onto the flames and they will flare up and burn the peppers.) Place the peppers directly on the grill.
Cooking
Cook until the peppers begin to char and blister. Once one side is charred, flip until all sides are brown. Each side should take about two minutes. When you remove the peppers from the heat, they should be soft, but not too mushy.
Serving
If you want to eat the chiles as is, you can sprinkle them with sea salt before serving. Add a squeeze of lime to contrast the smoky flavor. Serve while warm. Pair with Corona with lime or a tequila drink.
If you plan to use them in another dish, peel off the charred skin and discard. Cut them open to remove the seeds (unless you're trying to add heat to a dish) and then slice into smaller pieces to be used atop nachos, dips, tacos, or to be used in sauces and soups.
For lovers of green chile peppers, Mexican cuisine is a haven. To try some real, authentic Mexican food, visit Mexicali Fresh Mex Grill in Spencer, Holden, or Ware, Massachusetts. We also have a newly opened location in Dayville, Connecticut. You will love our chile relleno dish, which is a poblano pepper that has been stuffed and roasted. Come dine with us today!