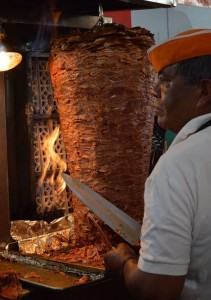 Al pastor is a dish is popular in Central Mexico. Not to be confused with the spit-grilled shawarma of Lebanese culture, Al pastor meat is typically pork-based in nature and is marinated in a combination of dried chilies, spices, and pineapple.
It is believed that the Mexican Al pastor originated from the Arab's shawarma grilled meats. Having been derived from such a cooking style, tacos al pastor is similar to the Turkish döner kebab and Greek gyros. However, the Mexican meats made in this style can commonly be found in dishes such as gringas, alambres, and huaraches.
Preparation
The marinated meat is cooked on a slow turning vertical rotisserie (called a trompo) with a gas flame. It is not uncommon to add other spices to the meat, such as achiote, a seed that imparts a subtle flavor and a reddish-orange color to the dish. Once mounted to the trompo, a piece of onion and pineapple is speared on top of the meat to help add even greater flavor. Once fully cooked, the meat is removed from the spit in very thin slices and served on tortillas with simple toppings such as cilantro, onions, lime juice, salsa, and occasionally pineapple.
Try it at Home: Tacos Al Pastor
While we won't blame you if you don't have a trompo hanging around in your kitchen, you can still enjoy tacos that are cooked in a similar style to Al pastor. What makes Tacos Al Pastor delicious is the marinade and slow cook time of the pork. Try this recipe by BonAppetit for a similar Al Pastor experience!
Ingredients

SERVINGS: 6-8
10 guajillo chiles, seeds removed
2 chiles de árbol
3 pounds boneless pork shoulder (Boston butt), sliced ¾" thick
8 garlic cloves, peeled
1 cup distilled white vinegar
¼ cup sugar
3 tablespoons prepared or fresh achiote paste
3 ounces kosher salt
1 pineapple, peeled, cored, cut into ½" rings, divided
1 medium onion, finely chopped, divided
2 red habanero chiles, seeds removed, finely chopped
¼ cup fresh mint, chopped
3 tablespoons fresh lime juice
16 corn tortillas
Lime wedges (for serving)

Prep

Bring guajillo chiles, chiles de árbol, and 2 cups water to a boil in a medium saucepan over medium-high heat. Cover, remove from heat, and let sit 30 minutes to let chiles soften.

Place pork in a large bowl. Purée chiles and soaking liquid, garlic, vinegar, sugar, achiote paste, 3 oz. salt, half of the pineapple, and half of the onion in a blender until smooth, about 2 minutes. Pour over pork, stirring to coat thoroughly. Cover and chill 3–12 hours.

If using a gas grill or grill pan, prepare for medium-high heat; if using a charcoal grill, prepare for two zones of heat, medium-high and low. Grill remaining pineapple over medium-high heat, turning once, until charred, 6–8 minutes. Finely chop pineapple and combine with habanero chiles, mint, lime juice, and remaining onion in a small bowl. Season with salt, cover, and chill until ready to use.

If using gas grill or grill pan, reduce heat to low; if using charcoal grill, use low-zone heat. Remove pork from marinade and grill until marinade on pork has dried and begins to caramelize and char, about 12 minutes per side. Transfer to a cutting board and let pork rest 10 minutes.

Grill tortillas until soft and beginning to char, about 30 seconds per side. Slice pork against the grain into ¼" strips. Top each tortilla with a few pieces of pork and some pineapple salsa. Serve with lime wedges for squeezing over.

Do Ahead: Pineapple salsa can be made 4 hours ahead; keep chilled.
To learn more about Mexican dishes and culture, be sure to read our blog, or visit any Mexicali Fresh Mex Grill location in Massachusetts or Connecticut. We look forward to cooking with you!