It isn't every day that you're treated to homemade tortillas in your own kitchen or at a dinner party.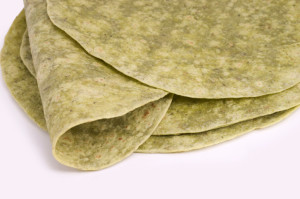 But you can change this. The best part: it's not difficult. In fact, it's simple to make tortillas at home. Of course, the more freshly made ingredients you can include in your cooking the better.
The following recipe is for spinach tortillas, however, whichever flavor you're after will simply be substituted for the spinach in the recipe. For traditional tortillas, skip the spinach and simply season. Truth be told–and here's the fun part–you can pretty much add any flavor to your tortillas. Some ideas include garlic and cilantro or aromatic spices. Here's the recipe from Tammy's Recipes. Go ahead, test it out, and claim bragging rights next time you're cooking Mexican for family and friends.
Ingredients:

9 ounces fresh spinach, chopped (about 4-5 cups of packed, chopped spinach)
1 tablespoon water
2+ cups flour
1/2 teaspoon salt or garlic salt
dash of pepper or seasoned pepper
1/4 cup oil

Instructions:

1. In a large pan or skillet over medium to medium-low heat, cook spinach in water. Cover, stirring occasionally, until spinach is wilted and soft. This will probably take about 5 minutes after the pan is hot and the spinach has started to cook.2. In a mixing bowl, combine flour, salt, pepper, and oil. Stir until crumbly.3. Add the (hot or warm) spinach mixture, including the water left in the pan from cooking. Knead or stir, adding additional flour as needed (may take a cup or more of extra flour) to make a smooth dough. Knead dough for about 5 minutes, which will mix the spinach in better, and give the dough an even consistency.4. Divide dough into 8 parts (for 10 to 12-inch tortillas) or more (for smaller tortillas).5. Pre-heat a griddle or large skillet over medium heat. If using a cast iron or non-stick griddle or pan, you won't need oil (although you can use a little if you wish).

6. On a lightly floured surface, roll each dough portion into a thin circle (or other shape if desired).

7. Brown tortillas in pre-heated pan for about 5 minutes on each side, just until cooked. A few light brown spots should appear.
Good luck.
If you're not ready to try to make your own tortillas from scratch, but still have a craving for delicious authentic Mexican food, please visit one of the Mexicali Fresh Mex Grill locations in Spencer, Holden and Ware, MA, as well as our new location in Dayville, CT.
Here at Mexicali Fresh Mex Grill, we're always looking to communicate with our fans. We would love to hear how your tortillas turned out, or if you make them on a regular basis.
And, don't forget to let us know if you flavored your tortillas with something we didn't mention. We want to hear about it.