If you are in the process of planning a Mexican dinner party, you may have already discovered some of the difficulties that one may encounter when planning a dinner party.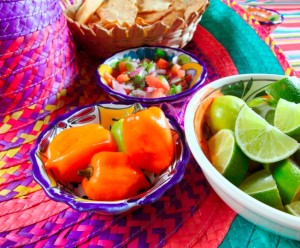 With so many different factors, such as different taste palates, food allergies, and making sure the party runs smoothly, a lot goes into hosting the perfect party! Here are some suggestions on how to make sure your Mexican dinner party is a success.
Easy on the Heat
One of the biggest distinguishers for guests at a Mexican dinner party in terms of the food is how much heat it contains. Some guests at your Mexican dinner party are not going to want to encounter much heat at all, while others can't live without spice in their food and will go out of their way to make the hot foods hotter. The best way to deal with this conundrum is to cater to the guests who prefer little to no heat. Guests can always add heat to food by using hot sauce or other measures, but once the heat is on there, you can't take it away. If you cater to the mild, those who like it hot will cater to themselves.
Let Your Guests do the Work
Arguably, the best thing about throwing a Mexican dinner party is the fact that Mexican food tends to be hands on. Mexican items such as burritos, quesadillas and tacos are simple do-it-yourself cuisine. As the host, you must get everything ready, brown the meat, set out the toppings, and watch the guests at your Mexican dinner party make their own meal. This also allows you to spend more time entertaining your guests, which not only improves your experience but improves the experience of your Mexican dinner party guests as well.
Turn it Into a Fiesta!
The Mexican culture is a vibrant and fun one! The Mexican people are known for throwing fiestas for a variety of reasons… and sometimes they don't even need a reason. Have fun with your Mexican dinner party and your guests will have fun too! Simple steps like hanging up green, white, and red streamers or creating a soundtrack of traditional Mexican music can make a world of difference. If you can, take the party outside and add inexpensive colored lanterns to keep the Mexican dinner party going long into the night. Having the party outside will also make it easier on clean up as well.
Throwing a Mexican dinner party can be a great time for both you and your guests. Following these steps can help you make sure that everyone has a time to remember. Now you can plan a party with both the food and the atmosphere that makes everyone feel like they are in Mexico City dancing the night away at your Mexican dinner party, when in reality they haven't left your backyard. No matter how big or small of a Mexican dinner party you are having, we at Mexicali Fresh Mex Grill can help! Whether you need a place to throw your party, delicious food, or both, our experienced team at Mexicali Fresh Mex Grill will make sure that everything is just the way it should be for the big day. Contact us to learn more about hosting a Mexican dinner party at one of our two Mexicali Grill locations in Spencer and Holden, MA.
What do you consider the most important part of a Mexican dinner party? Please share in the comment section below!