While churros are often considered a classic Mexican dessert, they did not originate there.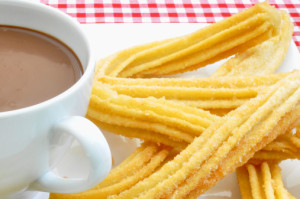 There is some disagreement about where the churro was first created. Some believe churros were a product of Spanish shepherds and others believe that Portuguese sailors brought churros back from China.  Although no one can decide who gets the credit for churros, everyone can agree that these warm pastries dusted with cinnamon sugar are too good to pass up. Have you ever wondered how to make churros for yourself? It's actually pretty easy to make churros once you have all of the ingredients.
With this guide from All Recipes, you will be able to make churros in less than half an hour right in your own home.
Ingredients:
Original recipe makes 4 servings

1 cup water
2 1/2 tablespoons white sugar
1/2 teaspoon salt
2 tablespoons vegetable oil
1 cup all-purpose flour
2 quarts oil for frying
1/2 cup white sugar, or to taste
1 teaspoon ground cinnamon

Directions

In a small saucepan over medium heat, combine water, 2 1/2 tablespoons sugar, salt and 2 tablespoons vegetable oil. Bring to a boil and remove from heat. Stir in flour until mixture forms a ball.
Heat oil for frying in deep-fryer or deep skillet to 375 degrees F (190 degrees C). Pipe strips of dough into hot oil using a pastry bag. Fry until golden; drain on paper towels.
Combine 1/2 cup sugar and cinnamon. Roll drained churros in cinnamon and sugar mixture.
Now that you know how to make churros, we're sure that you'll be coming up with excuses just to serve them. But don't worry, your friends and family won't mind one bit. They will actually be very glad that you know how to make churros.
If you don't feel like cooking or if you don't want to make churros on your own just yet, feel free to visit us at Mexicali Fresh Mex Grill.  We serve fresh churros, as well as other authentic Mexican dishes, every day at our Holden, MA , Spencer, Ma, and Ware, MA locations.
Since you have this recipe on how to make churros, when do you think you'll try it out? What types of occasions would you like to make churros for?