It's time to think outside of the menu when it comes to your margarita of choice.Is the most recent new margarita flavor you've tried strawberry? Well, have no fear. We are going to share five new margarita recipes to help you spice it up this summer, some more literally than others.
New Margarita #1: The Red Chile Margarita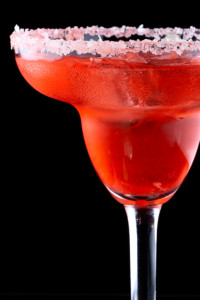 There is now a way to bring the heat and the cool all at once. This new margarita is an easy concoction to cook up, but will shock any guest with its spicy side. Combine the following ingredients in a shaker with ice, and simply pour into a glass and serve. If you want to make a great presentation, cut up some red pepper and add it as a garnish.
Ingredients:
3 Slices of muddled red peppers
2 Parts Tequila
3/4 Parts Cointreau
1/2 Parts lime juice
1/2 Parts simple syrup
1 Pinch of cilantro
*Recipe from Food Republic
New Margarita #2: The Smokey Watermelon-Jalapeno Margarita
Summer brings thoughts of juicy watermelon slices, barbecues, and the heat. This new margarita incorporates all of these aspects. Therefore, it is the perfect drink to celebrate the season. To start, rim your glass with the hickory smoked salt. Then, squish up the jalapeno pepper to get some of the juices available and puree the watermelon. Combine all the ingredients in a shaker with ice, and strain it into your glass. This new margarita is best served on ice. To add some flair to its appearance, garnish with a watermelon on the rim of the glass.
1 Jalapeno chile pepper
2 Ounces tequila
1 Ounce freshly squeezed lime juice
1 Ounce watermelon puree
¾ of an ounce agave nectar/syrup
Hickory smoked salt
*Recipe from Boulder Locavore
New Margarita #3: The Chocolate Margarita
The way to a girl's heart is no longer through chocolate and flowers. It is this new margarita made with chocolate and tequila! A chocolatini is relatively common nowadays, but a chocolate margarita is definitely a new twist. The key to this recipe is finding the best chocolate syrup you can, because it will make all the difference. Combine the ingredients listed below in a pitcher and stir. To add something extra to this new margarita, dip the rim of your glass in the chocolate syrup, and then dip it into shaved chocolate. To solidify this chocolate rim, place the glass in the freezer for about 15 minutes before serving.
Ingredients:
½ Cup chocolate syrup
¾ Cup tequila
¼ Cup heavy cream
1/3 Cup Cointreau
1/2 Cup chocolate liqueur
1 Teaspoon of freshly ground canela (Mexican cinnamon)
*Recipe from Sweet Life
New Margarita #4: The Apple Cider Margarita
It may not be fall quite yet, but apple cider is always delicious. Traditionally, hard cider does not contain tequila, but in the case of this new margarita, it seems the two make a surprisingly delicious duo. To make this delicious treat, rim the glass with a mix of sugar and cinnamon. Then, combine the following ingredients in the glass and stir.
Ingredients:
1 Ounce orange liquor
1 Ounce gold tequila
5-6 Ounces sweet apple cider
1 Teaspoon Sugar
1 Teaspoon Cinnamon
*Recipe from How Sweet It Is
New Margarita #5: Avocado Margarita
Gotta have your guac? Now you can even have it as a drink in the form of this new margarita. It may sound a little strange, but you may be pleasantly surprised. Combine the following ingredients in a blender until smooth. Then, add ice to the blender and mix for two minutes, and serve in a glass with salt around the rim.
Ingredients:
6 ounces tequila
2 ounces triple sec
3 Ounces fresh lime juice
2 ounces simple syrup
1 avocado
2 cups ice
*Recipe from See My Drink
Whether you are having a margarita to relax after work or throwing a get-together, each of these new margarita ideas is sure to raise some excitement. If you would like to experience some more traditional margaritas that are just as delicious or are interested in other margarita recipes, come on in and visit Mexicali Fresh Mex Grill at one of our locations in Holden, Spencer, or Ware. We are always happy to answer any questions, or serve you a refreshing drink. Our margaritas come in a wide variety of flavors, so you can find the perfect one for you!
What's your favorite margarita flavor? Which new margarita do you think you will try?