When you're trying to make healthier choices about your diet, you may think that you have to give up meeting your friends at your favorite restaurant.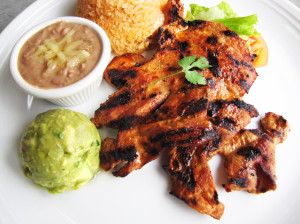 However, if your favorite restaurant happens to serve Mexican food, you might be in luck.
Mexican restaurants and healthy Mexican food do not have to be kept separate. With so many delicious cheesy and high-carb dishes, it may seem difficult to eat healthy Mexican food and still be satisfied. However, once you learn the following tricks, you'll see that eating healthy Mexican food in restaurants isn't nearly as unpleasant as you may have feared. You might even be surprised at how much healthier many of your favorite dishes can be with just a bit of tweaking.
The following article from She Knows discusses several ways that you can go out to your favorite restaurant and still order healthy Mexican food.
Avoid the chips

We know — the chips and salsa are good, but you can easily eat more than 1,000 calories without even batting an eye. Chips are addicting in the sense that if you eat one, and there just so happens to a never-ending basket in front of you, you're not going to be able to stop. Avoid them altogether and consider asking the waiter not to bring them — as long as the rest of your party doesn't mind.

Go for grilled items

Mexican restaurants always have an array of healthy, grilled options — including fish, fajitas, chicken and beef. This is significantly healthier than anything that's fried or breaded. Order the items without the tortillas or with them on the side. Flavor the dish with grilled onions, grilled peppers and, of course, salsa! Choose healthy sides Skip the refried beans and rice. They're really just fillers and can add up to 1,500 calories to your meal. Order black beans instead of refried and corn instead of rice. Another healthy option is a side salad — but make sure to get low-fat dressing and easy on the cheese and croutons. Remember, you can always add salsa to the corn and beans to spice it up or use it as a salad dressing. Mexican salsas are always fresh and naturally good for your body.

Drink right

Typically, it's best to avoid alcohol altogether since it's loaded with sugar and calories and has a tendency to make us not care about healthy eating anymore. If you must drink, though, indulge in a light beer, glass of wine or skinny margarita. Ask the waiter which drinks have the lowest number of calories and go from there. Also, try to resist the urge to order more than one drink. It adds too many calories to the already fattening meal and ups your bill.

Little tips save big calories

If you order a taco salad, get it without the bowl-shaped tortilla. Yes, it's good — but you may as well order the enchilada plate.
Avoid nachos and anything that's deep-fried. All you'll be left with is a stomach ache.
Choose soft tacos instead of hard ones, which are deep-fried; and corn tortillas instead of flour.
Be careful with guacamole. Though it's healthier than cheese dip, it's only good in moderation. Mix it with salsa to avoid overeating.

By utilizing these tips next time you find yourself at a Mexican restaurant, you'll be certain to leave feeling healthier, full and satisfied!
Ordering healthier options at dinner does not have to mean sticking to a glass of water. Cutting back, substituting certain elements, and practicing moderation are the best ways to make healthy eating a success. As long as you remember these tips to ordering healthy Mexican food, you can still eat out and be confident that you have not just risked your health and your diet.
Additionally, fresh vegetables are another way to utilize healthy Mexican food. Here at Mexicali Fresh Mex Grill, many of our authentic Mexican dishes are served with vegetables. We also offer a number of great vegetarian options that make ordering healthy Mexican food easy and delicious. If you are interested in the healthy Mexican food options that we provide, please feel free to visit us in one of our Holden, MA, Spencer, MA, and Ware, MA locations.
How many of you are planning to use some of these healthy eating tips the next time you go out to eat? Which of these tips for ordering healthy Mexican food did you find most useful?