Are you bored with margaritas and looking for a new Mexican cocktail to try? Look no further than this guide on how to make micheladas.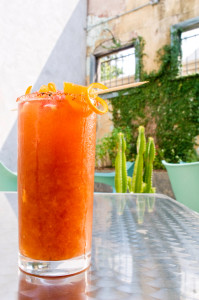 A michelada is sort of like a Mexican bloody mary. Quite simply, a michelada is a Mexican beer with hot sauce for added flavor. However, if you want to learn how to make micheladas the authentic way, then you will need more ingredients than  just a Corona and Frank's RedHot.
As with any other cocktail, there are a variety of ways to make a michelada depending on where you go. This recipe comes from a bartender in Guadalajara. The ingredients listed from the following recipe by Bon Appetit is what makes a true michelada more like a bloody mary than a beer with hot sauce. It infuses the savory flavors of spices to create a truly unique cocktail.
How to Make Micheladas
Michelada
8 servings

INGREDIENTS
1 32-oz. bottle chilled Clamato (about 4 cups)
1 32-oz. bottle or 3 12-oz. bottles chilled Mexican lager
1/2 cup fresh lime juice
1 1/2 tsp. Worcestershire sauce
1 tsp. hot sauce (such as Tabasco)
1 tsp. Maggi Seasoning
2 Tbsp. kosher salt
1/2 tsp. chili powder
Lime wedges (for serving)

PREPARATION
Mix Clamato, lager, lime juice, Worcestershire sauce, hot sauce, and Maggi Seasoning in a large pitcher.

Mix salt and chili powder on a small plate. Rub rims of pint glasses with lime wedges and dip in salt mixture. Fill glasses with ice, add Michelada mixture, and garnish with lime wedges.
The writer mentions using Dos Equis for this recipe, but you can try it with any Mexican lager. Dos Equis may be the easiest to find, but Modelo Especial or Pacifico will work well too. If you have trouble finding Clamato, you can substitute regular tomato juice. Many guides on how to make micheladas do not include so many ingredients, and you can skip them too. However, the above recipe has been tested as one of the best.
Now that you know how to make micheladas, you can pair it with your favorite Mexican menu items. Not up for cooking tonight? Visit one of the Mexicali Fresh Mex Grill locations in Ware, Spencer, and Holden, Massachusetts. We serve authentic Mexican food and drinks in a welcoming atmosphere, and we'd love to have you!
Once you have tried this michelada recipe, please come back and let us know how you like it!