Mexican décor has a distinct flair that is a favorite among interior decorators who have a penchant for the bold. The ways that Mexican and American décor differ so greatly is through their color schemes. While American décor typically focuses on one solid color, with complimentary hues for each room, traditional Mexican décor employs the use of many different vibrant colors. Mexico utilizes bold patterns and bright colors to add style to a home.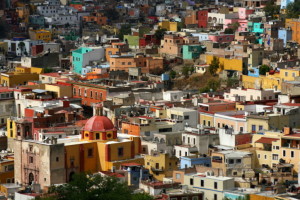 The colonial city of Zacatecas is a great example of Mexico's love for color. These houses reside on a mountain and are painted in a variety of bright colors, from pinks to yellows to greens. These buildings have become popular in travel and tourist magazines due to the eye-catching and unique shades of these houses. The village is laden with history, with the buildings built in the 18th century still retaining their original colors today.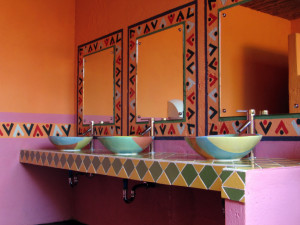 However, Mexican culture not only includes houses that are painted with bright colors on the outside, but the interior design is vibrant as well. Parallel walls can be painted with contrasting hues, while this style may not seem to "match" in the American sense.
Traditional Mexican décor hails from the 18th century, where much of the furniture was made from wood for practical means. A large portion of Mexican décor focuses on earthy tones, featuring natural material such as wood and clay, that is then contrasted with bright primary colors. Pottery, leatherwork, and textiles are also big in Mexico, and therefore are an integral part of Mexican décor. Wool textiles are common, and tend to include a lot of vibrant colors, such as those seen in traditional Mexican serapes.
Mexican homes are typically decorated with folk art, which is another part of Mexican culture that applies bright colors. A majority of folk art was created for utilitarian purposes, though because of the vibrant colors it is still considered art. This art is characterized by its Baroque style, meaning that curved lines are used abundantly. Huichol art personifies the Mexican flair by utilizing tiny colorful beads or brightly colored yarn to make a larger art piece. Skulls are also frequently used in Mexican art, as the Mexican culture finds great significance in death and uses satire to indicate that death is not something to be feared.
An uninformed person may walk into the home of a person of Mexican heritage or see the décor of a Mexican restaurant and label it as "cheesy" or "tacky." However, the décor, such as in these pictures, illustrate the real traditional style of Mexican decorating. This type of overtly colorful décor is what makes Mexico's style of decorating so unique.
Here at Mexicali Fresh Mex Grill, we are dedicated to creating an authentic Mexican experience, between our décor, our food, and hospitable staff. The owners of Mexicali hail from Mexico, and therefore are familiar with the traditional ingredients used and the colors employed. If you love Mexican culture, you will surely love visiting our restaurant. We invite you to stop by any of our locations in Holden, Spencer, and Ware, MA and experience it for yourself.
Have you used any pieces of Mexican décor in your own home?