Tired of your average beer?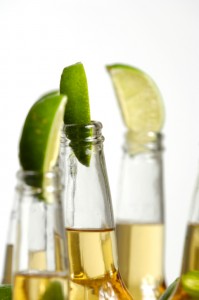 Want to pretend that you're still sunbathing next to a white sandy beach somewhere in Mexico? Then why not try a Mexican beer! There are several types of Mexican beer that will hopefully return you to that happy, vacation state of mind.
If you want to know more about Mexican beer, the following article by Yucatán Holidays reveals the history, habits, and the appeal behind drinking Mexican beer. It is nice to know that you have more options beyond the typical Coronas that come to mind when thinking of Mexican beer.
Mexican Beer 101| Beyond Corona

06 Aug 2010

Beer is proof that God loves us and wants us to be happy-
Benjamin Franklin

The smell of coconut suntan lotion surrounds your senses as the warm Caribbean sun makes your skin tingle. A beautiful white sand beach and blue turquoise ocean sprawls in front of you as you take a sip of that chilled light bodied pale lager.

Although this is the image we have come to associate with Mexican beer, there's more than meets the eye … and more to fill your taste buds.

Mexican Beer: Yesterday and Today

Beer around the world and in Mexico has a long history. Even before the Spaniards arrived, Mesoamerican cultures were familiarized with fermented alcoholic beverages.

As for today, there are two major brewing companies in Mexico: Grupo Modelo and Cerveceria Cuauhtémoc Moctezuma.

Grupo Modelo is the biggest brewing company in Mexico and is based in Mexico City. Their brands include Tecate, Sol, Dos Equis, Carta Blanca, Superior, Indio, Bohemia and Noche Buena.
 Cerveceria Cuauhtémoc Moctezuma is the older of the two companies and is based in Monterrey, with breweries in several other cities throughout Mexico. Their brands include Corona, Corona Light, Negra Modelo, Modelo Especial, Victoria, Estrella, Leon, Montejo and Pacifico.

Beer: In Numbers

Mexico ranks third in global exports of beer. The Mexican beer industry is one of the country's most prolific economies with 63 percent of the domestic population consuming one or more of the brands. The Mexican beer industry employs 90,000 people and 800,000 jobs indirectly.

Corona—flagship beer of Grupo Modelo—is one of the five most consumed beers in the world, available in more than 150 countries. Corona is the best known and most popular beer in the United States. It is also the best selling non-domestic beer in both the U.S. and U.K.

Both Grupo Modelo and Cervecería Cuauhtémoc combined have seventeen plants located throughout eleven states with a capacity of 46 million hectoliters annually. The breweries support 92 centers of barley production in Mexico.

Grupo Modelo and Cervecería Cuauhtémoc send more than 80 percent of its exports to the United States. Mexico displaced Holland in 2003 as the worldwide leader in beer sales by volume, selling 1.39 metric tons, with sales, primarily to the U.S. continuing to increase.

Drinking Habits in Mexico

Whether the beer is dark and strong or light and mild, Mexican beer is meant to be drunk cold.

Most beer in Mexico is sold in 325ml bottles called "medias," with some popular brands selling their products in aluminum cans. In some cases, Mexico sells bottled beer in returnable bottles, the deposit can be almost the price of the beer itself.

Another important part of Mexican beer culture is the "caguama." This slang term refers to beer bottled in large bottles of 925 or 940ml. This type of bottle was first introduced in Mexico in 1960 along with the six-pack and is only available on certain brands of beer. The six-pack in Mexico is referred to as a "six." Very little beer in Mexico is served on tap.

Although the lime-wedge is not common in other parts of Mexico besides the sunny beach towns, beer in Mexico does often come in cocktail. This beer cocktail is called a michelada. It consists of a light beer with a generous quantity of lime juice, salt and can include chili powder, Worcestershire sauce, soy sauce or tomato juice. Another, less common version of the drink adds Clamato (clam/tomato juice). The name "michelada" comes from the phrase "mi chela helada" (my beer, ice cold).

Beer in the Yucatan

The Leon and Montejo brands were originally brewed in Merida, Yucatan. Leon is a Munich-style dark beer, which was initially brewed at the beginning of the 20th century in the southeast of the country. Montejo was first introduced in 1960 to celebrate the 60th anniversary of the Yucateca brewery. This local brewery was bought by Modelo in 1979 and its packaging changed in the 90s.

Pamela´s Top 5 Beer Picks

Pacifico- 
It was born in Mazatlan, in the northeastern coast of Mexico in 1900. This light and highly refreshing pilsner is one of the top Mexican exported beers today.
Victoria
- One of the most traditional and old beers in Mexico. Under the tagline: "The beer of Mexico," it was first brewed in 1865. This pilsner-Vienna beer has an amber color and a unique taste that makes it favorite among locals and tourists.
Corona- 
Corona beer is the Mexican celebrity. It's sold in 159 countries in the 5 continents and it's one of the top selling beers in the world. With a mild flavor and a very light color, this pilsner is one of those you have to try.
Noche Buena
- It took its name from the Mexican traditional Christmas flower, Nochebuena (known as the Poinsettia in US & Canada). Exquisite bock beer (strong body, malty taste with some caramel and chocolate in it) that you can only find it from mid-October to January.
Montejo- 
Pilsner type beer, light but with an exquisite taste. If you visit Yucatan, is definitely one of the beers you want to try.

Which one is YOUR favorite Mexican beer? We want to know! Please leave your Mexican beer picks in the comments below.
Just like the article mentions, there is more to Mexican beer than just your average Corona or Dos Equis. Mexican beer is unique in its flavor and refreshment compared to American beer. Plus, nothing goes better with Mexican beer than Mexican food!  If this article got your mouth watering for an ice-cold Mexican beer, come down to Mexicali Grill in Spencer, Massachusetts, or Playa del Carmen in Holden, where you can always enjoy the traditional tastes of Mexico — Mexican beer included. So let's toast to Mexican beer. Salud!