As the weather continues to get chillier, many of us begin to hibernate in big sweaters and under warm blankets. And nothing pairs better with a cold winter's night like a warm cup of hot cocoa.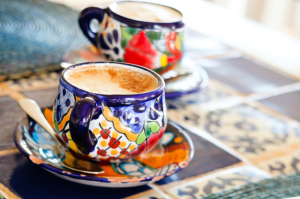 But have you ever had Mexican hot chocolate? It will double your warmth by combining warm chocolate with the tang of chili powder. It may seem like a strange flavor combination at first, but after one sip you'll realize that Mexican hot chocolate needs to be a part of your winter tradition.
The following recipe from Epicurious even adds a little bit of liqueur to warm your insides. However, you can skip it if you're looking for a virgin recipe, and you won't lose out on any of the flavor!
Mexican Hot Chocolate

ingredients

2 cups reduced-fat (2 percent) evaporated milk
1/2 cup whole milk
1/2 cup chocolate liqueur
1 teaspoon vanilla extract
1/4 cup sugar
1 tablespoon unsweetened cocoa
1 1/2 teaspoons ground cinnamon
1/4 teaspoon ancho chili powder
10 cinnamon sticks
1 dried red chile
2 1/2 ounces bittersweet chocolate, broken into pieces
1/4 cup heavy whipping cream

preparation

Whisk evaporated milk, whole milk, liqueur, vanilla, sugar, cocoa, 1 teaspoon of cinnamon and chili powder in a heavy saucepan. Add 2 of the cinnamon sticks and chile and cook gently over medium-low heat until warm. Add chocolate and cook, whisking until melted. Gently bring to a high simmer; reduce heat and simmer until liquid thickens and reduces slightly, whisking often, 10 minutes. Combine heavy cream with remaining 1/2 teaspoon cinnamon and beat until peaks form. Ladle 1/3 cup hot cocoa into each of 8 teacups; top with 1 tablespoon whipped cream and garnish with a cinnamon stick.
Now that you know how to make authentic Mexican hot chocolate, you can really keep warm this winter. Consider serving it at your holiday party as an after dinner drink. Your guests might not even seek out dessert after such a rich beverage.
If you like traditional Mexican cuisine, then you have to try Mexicali Fresh Mex Grill on for size. With locations throughout Massachusetts and Connecticut, Mexicali brings south-of-the-border flare right to your locale. Visit one of our locations today!