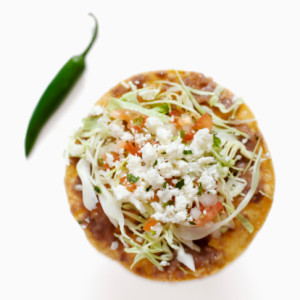 When making a list of Mexican Food, tostada does not often come first. People will naturally go to their favorites like tacos, quesadillas, and burritos, and just not mention tostadas at all. Well, here is some appreciation for the unheralded tostada.
Tostada in Spanish literally means "toasted." It is used to describe a toasted tortilla, and was initially only used for tortillas that were not fresh enough to eat cold. But as time evolved people started using tostadas for more and more recipes, and now dishes are based around the Spanish delight.
If that put you in the mood for a delicious tostada, here is a Mexican Tostada recipe courtesy of the Food Network.
Chicken Tostada
Ingredients

Crispy Tortillas

Vegetable oil
6 white corn tortillas
Kosher Salt

Chicken

3 cups cooked shredded chicken
1/3 cup freshly squeezed lime juice
1/4 cup olive oil
1/4 cup chopped fresh coriander (cilantro)
Kosher salt and freshly ground black pepper

Tostadas

3 ounces Monterey Jack cheese, shredded (around ½ cup)
½ head iceberg lettuce, shredded and cored
1 Hass avocado, thinly sliced or guacamole
½ cup sour cream
1 scallion, thinly slice
12 fresh coriander (cilantro) leaves

Refried Beans

2 tablespoons olive oil
¼ medium Spanish onion, finely chopped
1 teaspoon ground coriander
4 cloves garlic, minced
One 15-1/2 ounce can pinto beans, mashed
¼ teaspoon kosher salt
Freshly ground black pepper

Salsa Cruda

2 ripe tomatoes or 4 plum tomatoes, cored and roughly chopped
¼ medium onion, finely chopped (about 3 teaspoons)
¼ jalapeno, seeded and minced
2 tablespoons, chopped fresh coriander (cilantro)
1 teaspoon kosher salt
Freshly Ground black pepper

Directions

Tortillas

Pour the oil for frying into a large heavy-bottomed pot to a depth of about 2 inches.
Place over medium heat and heat to 375 degrees F.
Add the tortillas, one at a time, and fry until golden brown and crispy, about 1 1/2 minutes.
Using tongs, transfer to a paper towel-lined pan and sprinkle with salt. Set aside.

 Chicken

1. In a small bowl, mix together the chicken, lime juice, oil, coriander, and salt and season with pepper to taste.

2. Cover with plastic wrap and set aside.

Tostadas

1. Preheat the broiler.

2. Spread the beans evenly over one side of each tortilla and sprinkle with some of the cheese.

3. Transfer to a baking sheet and broil until the cheese is lightly browned and melted, about 30 seconds.

4. Divide the tortillas among 6 plates.

5. Evenly mound the chicken on each tortilla and top with the lettuce.

6. Top each tostada with avocado, salsa, and a dollop of sour cream.

7. Sprinkle with the scallion and garnish the tostada with the coriander leaves. Serve immediately. Cook's Note: The tortillas must be fried until very crispy, otherwise they may become rubbery, making them difficult to cut with a knife and fork.

8. Heat the oil in a large skillet over medium-high heat.

9. Add the onion, coriander, and cumin and cook, stirring, until lightly browned, about 2 minutes.

10. Add the garlic and cook, until lightly browned, about 1 minute more.

11. Add the beans and cook, stirring frequently, until thick and amber brown in color, about 4 minutes. 12. Stir in the salt and season with pepper to taste.

Salsa Cruda

In a small bowl, mix together the tomatoes, onion, jalapeno, coriander, salt, and season with pepper to taste.
Cover with plastic wrap and set aside
It's as simple as that to create your own chicken tostadas! If those sound good and you want more recipes for authentic Mexican food, check out blog. If you want Tostada and other Mexican dishes prepared for you, stop into Mexicali. We have locations across Massachusetts and Connecticut!