In the Mexican culture, Christmas is celebrated for an entire month, making it one of the biggest holidays of the year.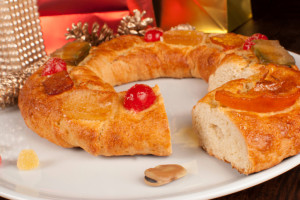 And where there is festivity to be found, of course there will be delicious Mexican food to go along with it.
On the final day of the Christmas season in Mexico, January 6th (also called the Epiphany), families celebrate with the famous rosca de reyes, a cake pastry ring decorated with candy or fruit. Rosca de reyes translates to mean "Three Kings Cake", with the candies on top representing the gifts given by the three wise men, according to Christian tradition.
Not only is the rosca de reyes delicious, but it's also fun to eat. The baker will bake a small figurine or bean inside of the cake that represents Baby Jesus. It's exciting to see who gets the token in their piece of the rosca de reyes, and the person that finds it must give a party for Candlemas, on February 2nd.
The following recipe from Food.com outlines how to make rosca de reyes for your holiday gathering.
Cake
2 (1/4 ounce) packages active dry yeast
1/2 cup warm water
1 cup milk, warm
1 cup sugar
1 cup butter or 1 cup Crisco, melted
1 teaspoon salt
6 eggs, beaten
6 cups flour (may need up to 8 cups)
1 (12 ounce) can solo almond filling (Substitute Danish – Almond Filling, marzipan or the jam of your choice if you can't find the Solo Almond Filli)
2 dried beans (for the babies)
colored sugar sprinkle (optional) or candied fruit (optional)
Icing
3 cups powdered sugar
6 tablespoons butter
2 tablespoons milk
2 tablespoons vanilla
Directions:

Combine yeast and water in a small bowl, stirring until dissolved, and set aside until yeast is proofed.
In a large mixing bowl combine the milk, sugar, and butter, stirring until dissolved.
Add the salt, eggs, and yeast mixture and blend thoroughly.
Beat in 3 cups of flour to make a smooth batter Add additional flour to make a soft dough (dough will be very sticky).
Turn out onto a floured board and knead approximately 8 minutes or until smooth and elastic, adding more flour as needed.
Dough may be made with a standing mixer and dough hook.
Round into a ball and place in a warm buttered bowl, turning to lightly coat top with some of the butter.
Cover loosely with plastic wrap and let rise until doubled.
Punch down the dough and divide in half.
To prepare rings, divide dough in half and flatten into a long oval.
Spread 1/2 can of Solo almond filling on each oval, place one bean into each oval, and roll each piece into a rope.
Join ends together leaving large oval hole in the middle.
Cover and let rise until double, about 1 hour.
While the bread is rising, preheat oven to 350°F.
Bake rings for 30 minutes in the preheated oven or until golden brown and sound hollow when thumped.
Remove and let loaves cool on wire racks.
Icing: Mix all the icing ingredients together until fluffy and well blended.
To serve, frost cooled loaves with icing.
Decorate with different colored sugars or candied fruit.
This is a fun food for the entire family to enjoy, typically as a pre-dinner tradition before the customary Epiphany meal. When you bake a rosca de reyes, you are prolonging a piece of history.
If you love traditional Mexican food, then you will definitely love visiting Mexicali Fresh Mex Grill. We have locations in Holden, Ware, and Spencer, Massachusetts. Our mission is to serve delicious, authentic Mexican food in a family-friendly environment. Stop by and see for yourself today!
What are some of your other favorite traditional Mexican holiday foods to eat?