Over the years people have heard the name refried beans and wondered, "Are refried beans really fried twice?"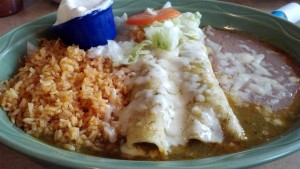 Or maybe you're someone who doesn't like refried beans and you just thought it was another Mexican dish. Whatever you may have thought about refried beans, we're here to set the record straight.
The article below from Find Your Balance tells the truth behind what refried beans truly are.
The F word

You're trying to be healthy. Maybe you're trying to lose weight. What if I offered you something fried for dinner? What if I offered you something refried?

Aughh! Fried food? No way! "Give me some steamed mixed vegetables," you'd cry.

And then you'd eat those steamed vegetables and hate every bite because of course you don't want to put any butter on them and anyway they're totally mushy. Now you're depressed and craving some chocolate.

So what if I told you that frying food wasn't really such a bad thing? That it's been done for centuries before heart disease was an issue?

Fact: Fat doesn't make you fat, and you need fat in your diet to be healthy.

Fact: Frying in good quality oil, organic butter or lard is totally different than frying in genetically modified cheap soybean oil that's been reused 4 times already. In fact, according to this fat expert, food deep fried in lard absorbs much less fat and gets more crisp, less soggy, than food fried in cheap oil.

Fact: Frying tastes damn good. It's satisfying. When you're satisfied, you have fewer cravings.

Anyway, as always, if you make something at home it's likely to be way better for you than eating out. I'm not advocating eating at KFC. Dear god, no.

Which brings me to refried beans. I remember avoiding these like the plague when I was in high school and dead set on being skinny. The thought of refried beans repulsed me. All that…fried-ness!

But refried beans are really just beans with some seasoning, mushed up. It's like hummus, actually. And the word "refried"? Well, that's not even what you think. It doesn't mean fried twice (horrors!) – It's just an English translation of "refrito" which is Spanish means "well fried" or "cooked well."

Hilarious! My fried fears were totally unfounded. Refried beans are not dunked in oil twice. There's actually very little fat used in most recipes, like the one below.

So how about a really healthy Mexican style dinner? This would even work for my 60+ detox participants – they're probably all looking for a quick and easy meal idea for tonight! Make any type of brown rice concoction you want, then buy or make salsa and refried beans. Done. Just read labels. For instance:

Eden brand ingredients: Organic Pinto Beans, Water, Organic Red Bell Pepper, Organic Chili Pepper, Sea Salt, Organic Cumin, Organic Onion, Organic Garlic, Organic Cayenne, Organic Paprika, Organic Jalapeno

Old El Paso ingredients: Cooked Pinto Beans, Water, Salt, Partially Hydrogenated Lard with BHA and BHT to Protect Flavor, Onion Powder, Chili Pepper, Spice, Garlic Powder

(While there's nothing wrong with lard, there is something surely questionable about partially hydrogenated lard with BHA and BHT.)

Or, make it yourself with this basic recipe:

Basic Refried Beans

3 cups dried pinto beans, soaked overnight
6 cups water
1 bay leaf
1 tsp. salt
3 onions
3 Tbl. olive oil
2 Tbl. dried oregano or basil or a mixture of both
1 1/2 Tbl. ground cumin
1 tsp. garlic powder
1 tsp. cayenne pepper (or to taste)

In a large pot, combine beans with water, salt and bay leaf. Boil, then simmer for about 1 hour, until beans are soft. Drain, reserving liquid.

Chop onions. In a large skillet, heat oil over medium heat, then add onions. Cook until soft. Add spices and 1/4 cup of liquid from beans. Cook another 5 minutes. Add beans and mash with a masher or immersion blender, adding a bit more liquid as you go to keep beans from drying out. Serve hot.
So, the wondering is over. You now know the truth behind what refried beans really are. They aren't as scary as they may have been prior to reading this, are they?
If you've never before tried refried beans, now is as good a time as any to get wild and try them. 😉 Come on down to one of our restaurants and give it a shot! Our refried beans are completely house-made the Old Mexico way. We have two Massachusetts locations: Mexicali Grill in Spencer and Playa del Carmen in Holden. and we're happy to serve you your first helping!